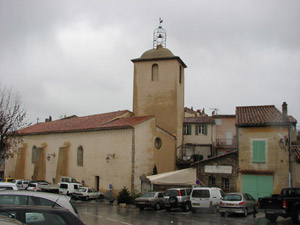 Exploring Ramatuelle and Grimaud
Wednesday, January 7, 2009

The weather forecaster had predicted a wet day and we were not misled. It actually snowed in certain areas in the South of France. Not wanting to waste a day indoors, we joined MaPa for a visit to the villages of Ramatuelle and Grimaud.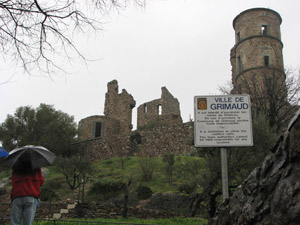 The village of Ramatuelle, above Saint-Tropez, was built in the form of a snail. It must be quite a beautiful place to visit in nice weather. On this rainy winter day, despite the number of cars parked around the village, we met only a handful of people. As expected, shops and offices were closed for lunch. Leaving Ramatuelle, we drove down to Saint-Tropez for a great lunch.
After lunch, we visited the village of Grimaud, not to be confused with Port Grimaud which we visited on January 4th. This medieval village is nested in the heart of the Maures mountains that border the Golf of Saint-Tropez. The landmark of this village is its 11th century castle ruins. Its Templars' Street was so named as members of Knights Templars supposedly stayed there centuries ago.
We returned to Le Lavandou via the N98 and across the Col du Canadel. In doing so, we caught a preview of our next cycling trip.
- Katy, 4/4/2009



Last updated: April 5, 2009