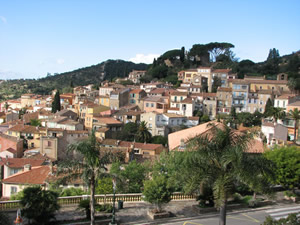 Exploring Bormes-les-Mimosas
Saturday, January 3, 2009

Today we explored Bormes-les-Mimosas by foot.
We hiked the red-marked Grande Randonnée (GR90) from Le Lavandou towards Bormes-les-Mimosas - Le Village. Parts of this route are unpaved and are carved through narrow sections dividing private properties.
From the village, we proceeded onward on a lonely path to the chapel Notre-Dame de Constance, situated at 324 meters above sea level. Closeby is the Table d'Orientation where we stopped for a fantastic panoramic view of the coast.
We descended quickly back down to Le Village and headed towards Le Pin. From Le Pin, we continued towards Port de Bormes, passing a couple of vineyards along the way. It was then a quick beach stroll back to Le Lavandou from Port de Bormes.
- Katy, 4/4/2009



Last updated: April 4, 2009