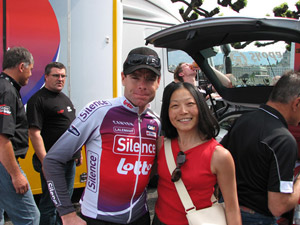 Cadel Evans nicely agreed to a photo (above)
Green Jersey winner Gregory Rast also agreed (below)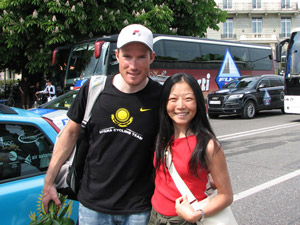 Tour de Romandie 2009 Stage 5 - Finish in Geneva
Sunday, May 3, 2009

Doreen and I spent a ladies' afternoon in Geneva.
While Eric cycled his Flemish flats and Will tackled Col du Marchairuz, we leisurely strolled down to the lake to catch the finale of this year's Tour de Romandie. Mind you, Doreen did a 2-hour run this morning so I'm really the lazy one today.
Last year, this tour began in Geneva (photos). This year, the tour ended in Geneva. Feeling like a veteran, I knew exactly where we needed to go.
Mere minutes before the arrival of the first group of cyclists, we settled at spot just before the last bend, roughly 400 meters from the finish line. This video shows what we saw. Wow! Enough said.
- Katy, 5/3/2009

Last updated: May 4, 2009