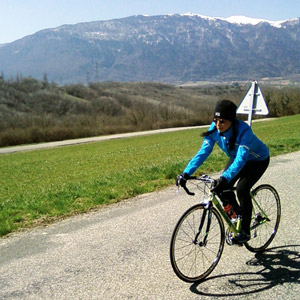 Geneva Vineyard Loops
Thursday, March 19, 2009

Spring is finally here and the conditions were just right for a tandem ride. For this first ride of the year, we cycled a local vineyard loop. Our path traversed Switzerland and France. While it was not a long ride, it was fun to be on a tandem again!
Saturday, March 21, 2009
About a year ago we cycled with both Will and Doreen for the first time (see Cycling the Swiss and Neighboring French Countryside). Today we got together for our typical Geneva vineyard loop.
Will and Doreen rode on their new Trek hybrids and Eric was on his old Bianchi hybrid, which comes complete with a rack as it is THE "shopping" bike. Me? I rode my race bike as I wanted to try out my new gears. Eric had replaced my standard-sized tooth wheels with larger ones ideal for climbing cols. They worked perfectly today!
- Katy, 6/12/2009

Last updated: June 12, 2009