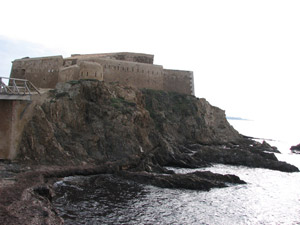 Exploring Giens and La-Tour-Fondue
Tuesday, January 6, 2009

The Giens peninsula is located southwest of Le Lavandou along the coast. It is 6km long and is the southern most part of the Côte d'Azur. We rode our Bianchis to one of its ports, La-Tour-Fondue, where we found the fort, Batterie du Pradeau (built circa 1634).
Arriving at the village of Giens just after lunchtime, we failed to find any open cafes. We decided then to continue to the larger town of Hyères along the pedestrian/bicycle-only path west of Salins des Pesquiers. It was here where we saw the flamigos.
We each had a cup of coffee in Hyères. Then, warmed up, a chilly ride back to Le Lavandou.
- Katy, 4/4/2009



Last updated: April 20, 2009