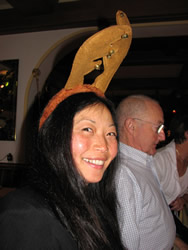 Holiday at Berwang
December 21-27, 2008

Thanks to MaPa, the entire family enjoyed another wonderful ski vacation at Berwang, Austria.
As in the past years, we stayed at Hotel Rotlechhof in Rinnen. We love the hotel's daily afternoon soup & cake buffet plus much more. Perfect fuel after a day of skiing.
Happily, there were ample amounts of snow on the slopes this year.
- Katy, 4/2/2009


Last updated: April 4, 2009
Skiing videos:

Above Left: Group skiing - Jan, Thomas, Michael, King Gip, Koen, Hilde, Johan, Karen, Luc, Eric, Katy (filming); Above Right: Michael, Eric, Katy (filming)
Below: Group skiing - Eline, Magali, Bart, Matthias, Thibo, Eric, Luc, Katy (filming)