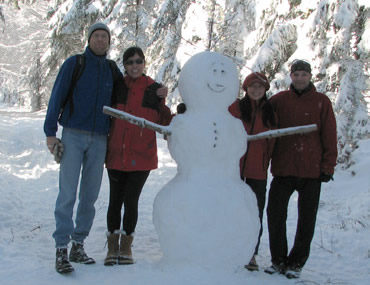 Hiking Mont Salève
Saturday, December 7, 2008

Today we joined Will and Doreen for a nice hike on snowy Mont Salève.
We were prepared for a walk in the snow. Sadly, we failed to coordinate our outfits as Eric stood out in blue jacket and jeans.

The trail we took is one of the many trails on le Salève that Will bikes through. This trail begins off route D341 near Chateau des Avenières and ends roughly 4km (180m altitude gain) later back onto the route. We walked another kilometer or so further to a viewpoint near Col des Convers where we caught a view of the famous Mont Blanc through the clouds.
We retraced our steps back to the start and passed a few people on cross country skis and showshoes.
A late lunch at Will & Doreen's put a delicious end to this lovely day.
- Katy, 12/8/2008
Last updated: December 8, 2008