Trip Overview
Photos
Video
Dauphiné Libéré 2008 Édition - Stage 5
Ville-La-Grand --> Morzine (125 km)
Friday, June 13, 2008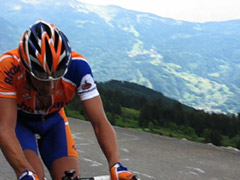 Eric and I (on our Cannondale mountain tandem) joined Barry andBrian (on their race bikes) for the 53 km ride from Geneva to Samoëns where we met Will for the big climb up to Col de Joux-Plane. Aside from the enjoyment of having good company of friends while we train for our Grandes-Alpes tour, we rode specifically to Col de Joux-Plane to watch stage 5 of the Dauphiné Libéré race.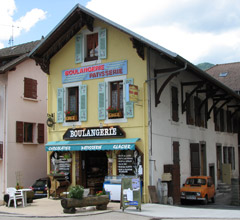 Our ride from Geneva took us through a few charming villages. We stopped at one such village, Taninges, at the recommendation of Eric for some delicious pastries and palmiers.
We arrived at Samoëns on time to meetWill, who had already climbed Plateau des Saix before meeting us. We began the climb up to Col de Joux-Plane together. Fairly quickly, we were dropped by our little peleton as we ascended the mountain in a slow but steady pace on our "heavier" tandem.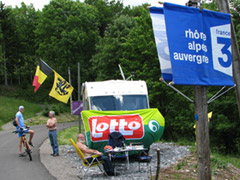 Riding in our easy pace, we chatted between us and waved to the cycling fans along the way. We even stopped to chat with a couple of Belgians, who are following BOTH le Dauphiné Libéré and le Tour de France this year in their camper. I guess we made a good-enough impression that they gave us a spare Flemish Lion flag. Thanks guys!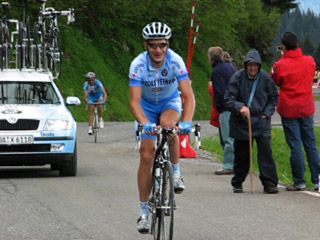 We met up with Barry, Brian and Will in a bar-restaurant at Col de Joux-Plane. A crepe and a coffee later, we donned all our spare clothes (for Brian and Will, Flemish flags for extra warmth) before we rode downhill about a kilometer to watch the race. It was a chilly wait.
The race passed quickly but maybe not quick enough for our cold friends. Barry estimated that the fasted guys rode up to the top of the col in ~35 minutes. WOW!
In his full Gerolsteiner outfit, Eric attracted the attention of one Gerolsteiner rider and his coach driving in the car behind him. The rider smiled at us (picture to the right) while the coach waved to us. Nice!
While Barry hitched a ride back to Geneva with Will, we cycled back to Geneva with Brian. Another quick stop at the same bakery in Taninges gave us (primarily me) the energy to follow Brian at his blazing pace.
All in, we rode 132.9 km and climbed 1,329 meters. Another fantastic day in the Alps!
- Katy, 6/15/2008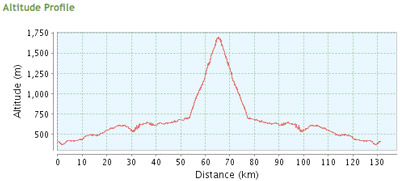 Data source: www.gpsies.com
Last updated: June 15, 2008
Video: Dauphiné Libéré 2008 Édition - Stage 5 from Col de Joux Plane
This video was shot about 1 kilometer down from Col de Joux-Plane in the direction of Samoëns, France.